Hong Kong hospitality group, Drop brings taste of Modern American cuisine in aid of SPCA Selangor
January 16, 2018 Kuala Lumpur – A fundraising dinner jointly organised by brand new Modern American restaurant, Drop Bar and Lounge Sdn Bhd (Drop KL) and creative agency Go International Group Dotcom Sdn Bhd brought together 22 esteemed donors and guests of the beneficiary SPCA Selangor, at a 'pop-up' event in Bangsar last week.
The dinner was graced by animal lovers and long-time supporters of the SPCA Selangor; Datuk Seri Wong Chun Wai and Datin Seri Florence Wong, June Wong, Mojgan and Mohamad Hizad, SPCA Chairman Christine Chin-Radford and Celebrity Ambassador, Donne Ray Radford of the Platters fame. Inspired by SPCA Legal Advisor Chan Mo Lin's many years of endless support for the animals, co-organisers Alison Christ of Drop KL and Jasmine Low of Go International Group planned out the exclusive dinner and have managed to raise RM7501 for the society. Their target is RM15,000 and the campaign will run right through until the final day of Chinese New Year on 2 March 2018. Visit www.simplygiving.com/event/dropklforspcaselangor to donate.
---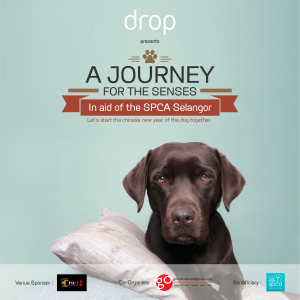 January 3, 2018 Kuala Lumpur – In celebrating the Chinese New Year of the Earth Dog this year, Drop Bar and Lounge Sdn Bhd (Drop KL) has collaborated with RUYI & Lyn and Go International Group Dotcom Sdn Bhd to host a 6-course fundraising dinner in aid of the Society for the Prevention of Cruelty to Animals (SPCA Selangor), a non-profit organisation established since 1958.
"We are pleased to be able to present our Modern American menu at our first pop-up event, DropUP @ RUYI & Lyn for SPCA Selangor in support of the animal rescue work and to welcome in the Year of the Earth Dog in 2018", said Alison Christ, Drop KL General Manager and Certified Sommelier (through the Court of Master Sommeliers).
"SPCA is extremely grateful and excited by this extraordinarily generous gesture cooked up by Drop KL and Go International Group Dotcom at RUYI & Lyn. We also thank our longtime Board Member, Legal Adviser and superb fundraiser Ms Chan Mo Lin, who constantly comes up with innovative and creative ways to promote the work of SPCA. In 2017 SPCA launched STRAY FREE SELANGOR (SFS), together with our Royal Patron DYMM Tengku Permaisuri Selangor, Tengku Permaisuri Norashikin, with the aim of finding a Home for Every Soul and spay/neuter as many owned and stray animals as possible so to prevent misery from over-breeding. The proceeds of this event will go towards SFS." – Christine Chin – Radford, Honorary Chairman, SPCA.
"RUYI epitomises unity through cross culinary collaborations – hence our Modern Chinese Yee Sang was designed to commemorate the Year of the Dog and paired in sync with Drop KL's Modern American Cuisine for a good cause in aid of SPCA," said Lyn Siew, co-founder and venue sponsor from RUYI & Lyn.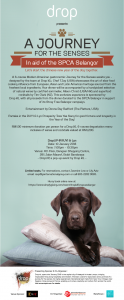 15 animal lovers are invited to participate in the campaign by donating RM500 per person via Asia's leading crowdfunding platform, Simplygiving.com for a seat at the exclusive dinner valued at RM1200 per person. Once the seat is secured, donors are then invited to participate in a "fundrace" where each person will help raise more funds for the SPCA via their social networks.
Note to Editors: At time of press release, the event has been fully booked!
Any member of the public can join in, and create their own fundraising page to help spread awareness about the Stray Free Selangor campaign and raise funds for the animals. Any amount of donation is welcomed but donors who pledge a minimum of RM388 will receive a RM100 cash voucher courtesy of SPCA and Drop KL respectively. The person who raises the highest amount of donations will be rewarded with a dinner for two at Drop KL. The campaign will run from today until the last day of Chinese New Year on 2 March. Click here to start: www.simplygiving.com/event/dropklforspcaselangor.
A 6-course Modern American gastronomic Journey for the Senses awaits – designed by the team at Drop KL; Chef TJay (USA) showcases the art of slow food cooking influenced by European, Asian and Latin American heritage sourced from the freshest local ingredients. Dinner will be accompanied by a handpicked selection of natural wines by Certified Sommelier, Alison Christ (USA/HK) and superfood cocktails by Tim Clark (NZ). This exclusive experience is sponsored by the management of Drop KL with all proceeds from the dinner donated to the SPCA Selangor in support of its Stray Free Selangor campaign.
Diners will also partake in the RUYI & Lyn Prosperity Toss Yee Sang for good fortune and longevity in the Year of the Dog. Guests will be entertained by American singer and Celebrity Ambassador of the SPCA, Donne Ray Radford – lead singer of The Platters (1986-1992) in Las Vegas, USA.
This novel event will mark Drop KL's maiden journey to tantalising Malaysians' tastebuds with its innovative style of wining and dining hospitality. Drop KL will open its two-level restaurant and rooftop bar at The Terraces, TREC on 438 Jalan Tun Razak in the city centre next month – fulfilling KL-ites' growing penchant for clean living; eating and drinking natural foods and beverages made from the freshest local ingredients. "Our team brings impeccable Hong Kong hospitality and a Modern American menu for epicureans with a promise of a journey for the senses. Diners will taste innovative cuisine that is inspired by the slow cooking and superfoods movement, taking inspiration from world famous chefs in New York City, Chicago and San Francisco as well as from the North American multicultural melting pot of Asian, Latin American and European influences," Christ added.
As Drop KL has yet to open, and without further ado, the event will "pop-up" at Modern Chinese restaurant, Ruyi & Lyn at 4th Floor Bangsar Shopping Center No. 285, Jalan Maarof, Bukit Bandaraya on 10th January 2018 at 7.30pm.
Visit www.simplygiving.com/event/dropklforspcaselangor?to start donating.
==================================================================
Event title??? ??? : A JOURNEY FOR THE SENSES; DropUP @ RUYI & Lyn for SPCA Selangor
Event date??? ??? : 10 January 2018
Event venue???? : RUYI & Lyn, 4th Floor, Bangsar Shopping Centre, 285 Jalan Maarof, Bukit Bandaraya, 59000 KL.
Beneficiary??? ??? : SPCA Selangor will receive 100% of donations
Donate ???????????? : Visit www.simplygiving.com/event/dropklforspcaselangor
Event Inquiries? : Email rsvp@gointernationalgroup.com
==================================================================
*terms and conditions apply
SOURCE: DROP KL
---
This press release was issued by?PRNews by Go International Group Dotcom, a press release dissemination service. Email us at?prnews@gointernationalgroup.com?for more info.